How To Take a Screenshot in Windows 10?
Screenshots have made our lives easier, as they help us record or take note of things for future reference. However, while taking screenshots via a mobile gadget is very simple, people often find taking screenshots in Windows 10 difficult. It is a very common issue since a lot of people are unaware of the process of taking screenshots on Windows 10 computers. Let's take a look at why taking screenshots is necessary and how it's done in simple, easy-to-understand steps.
Why are Screenshots Necessary?
One should know that screenshots are a crucial part of digital life.
They help us capture the same data we see on our computer screens / mobile devices in image form.
These images can be shared with others over the internet.
Screenshots make the selection of a particular part of the screen very easy.
Therefore, to capture screenshots on a Windows 10 computer, various methods can be employed. While these methods differ for every operating system, one should know the proper methodology for taking a screenshot in their system.
The methods listed below can help you take screenshots on Windows 10.
Different Ways of Taking Screenshots in Windows 10:
One can employ multiple methods of taking a screenshot in their system. Some of the most common methods that can be employed in taking the screenshot on a Windows10 computer are as follows:
1. Taking Screenshots in Windows 10 Using Shortcut Keys
Numerous key combinations can be effectively used to take a screenshot on a Windows 10 device. Some combinations include:

Use Windows key + Prt Sc: This shortcut will help to take the entire picture of your computer screen and save it in image format in the picture folder.
Use Alt Key + Prt Sc: Quickly capture a screenshot of a currently open window with this shortcut. This will automatically copy it to the clipboard, and the image must be opened in an image editor to be saved.
Use Prt Sc: This key is located at the top of the keyboard near the function keys. One may take a screenshot of your computer using the keyboard's PrtSc or Print Sc buttons and it is one of the most convenient options. The snapshot will be immediately copied to your clipboard. It can be passed onto any application that allows picture input, such as Microsoft Word or Paint, to save the file.
2. Taking Screenshots in Windows 10 Using The Snipping Tool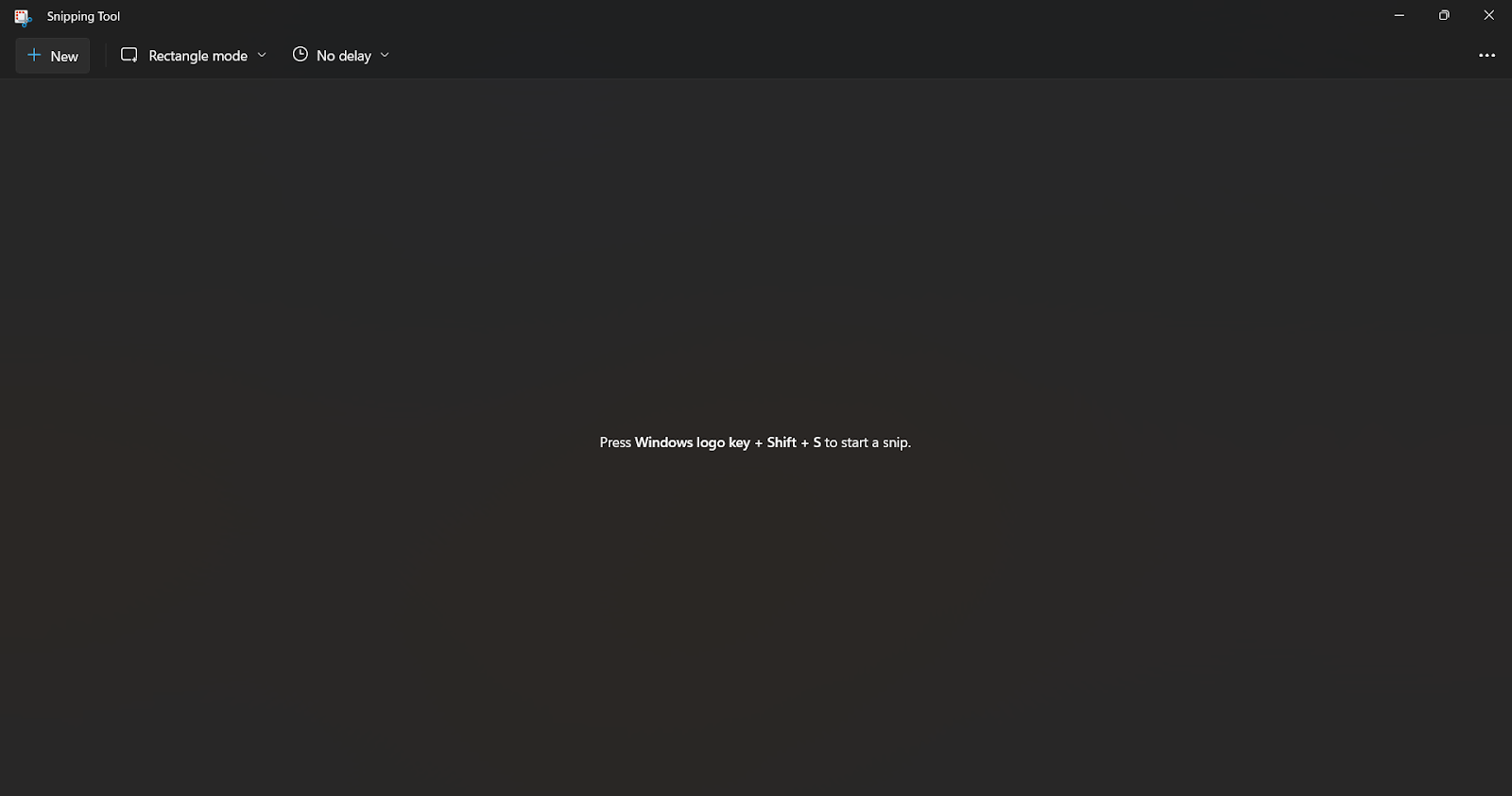 The Snipping Tool comes inbuilt with Windows 10 and is a utility software that comes with other operating systems as well. Many people find the Snipping Tool to be a simple and effective tool for capturing screenshots on Windows because of its familiarity.
From the moment you click the Snipping Tool shortcut to the point when you save your image, this tutorial demonstrates how to use the Snipping Tool for Windows 10. Follow these steps to use this helpful tool:
The Snipping Tool can be searched for on the start menu or you can immediately hit the run command by clicking the Windows Key + R.
Press the Windows key, Shift, and S. While you choose a location for your snapshot, the rest of the area will get darkened.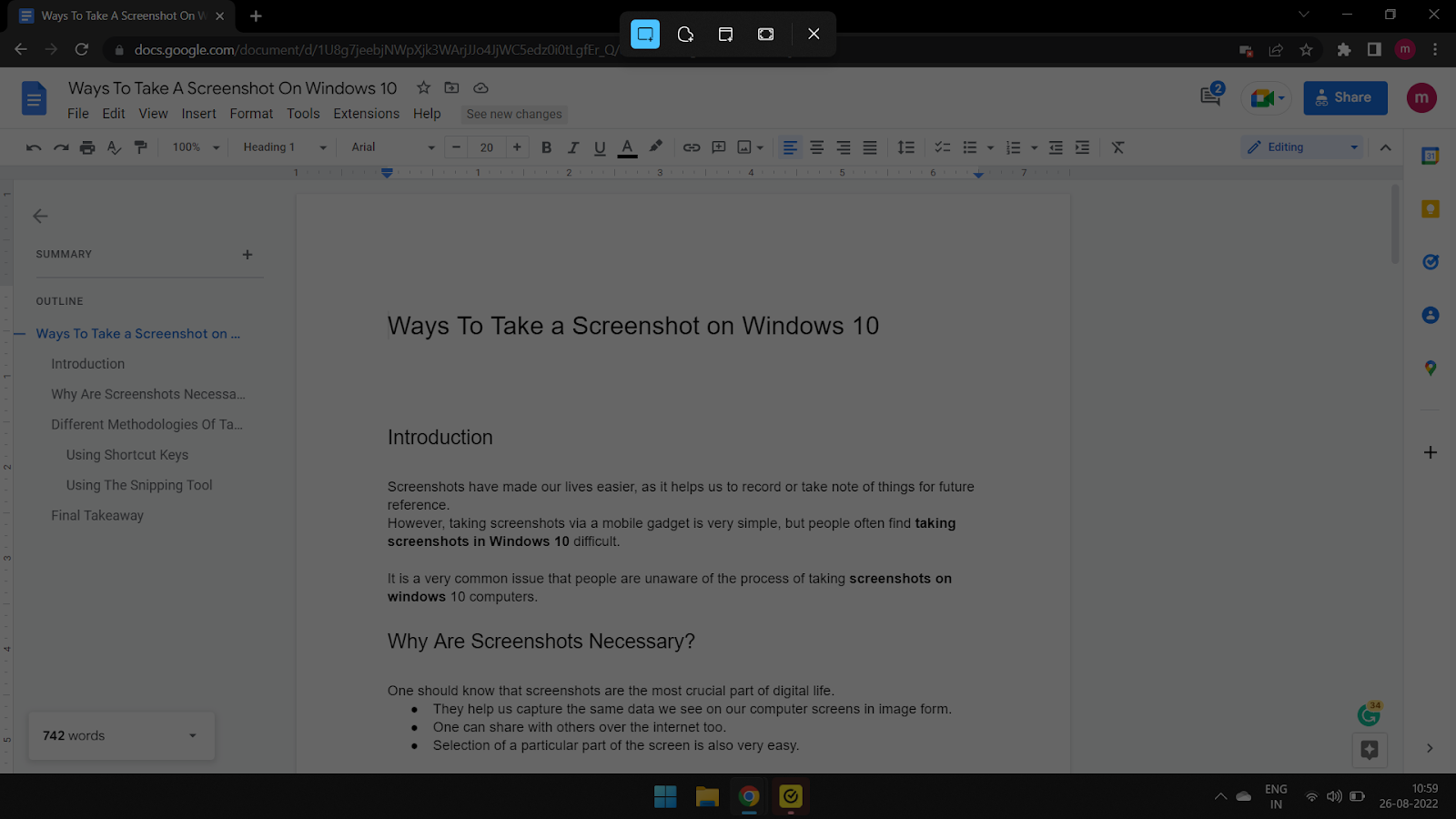 By default, the rectangular mode is used. By selecting one of the numerous choices from the toolbar, you can alter the shape of your cursor: rectangular, window, full-screen, and free-form.
Your clipboard updates automatically when you are done taking screenshots.
After capturing a screenshot, a dialog box also appears. You can click that notification for further editing as per your preference.
Third Party Tools to Take Screenshot in Windows 10
There are third-party utilities available for Windows 10 for the purpose of taking screenshots:
Snagit: It is an advanced tool available on PCMag. It is equipped with features like video and page-scrolling screenshots.
Ashampoo Snap: This one can be considered among the flexible solutions for taking screenshots on Windows 10, which is equipped with capture, edit, and share options.
Droplr: Droplr is a much-advanced tool that provides the options of remote collaborations, to help in providing sharing files, screens, and taking and sharing screenshots.
Final Takeaway:
Screenshots are one the essential tools that can be used in a large variety of ways. As a result of the same, screenshots may be regarded as a crucial component of our system as not only do they let us capture the data of our screen but one can also share them.
There are several ways to take screenshots on Windows 10. The most common methods involve the usage of shortcut keys such as Window key + Prt Sc, Alt Key + Prt sc, and Prt Sc key. Another method to efficiently take a screenshot is the use of the Snipping Tool which is easy to use. This tool also allows the user to capture a particular part of the screen having some particular shape like rectangular, circular, etc. Finally, taking a screenshot has become very convenient with the help of the Snipping Tool and shortcut keys.